Wonder why a record 81,000 Americans died of drug overdoses in the last 12 months tallied by the CDC, with opioids the primary cause? This alarming obituary, recently published in the Idaho Statesman, suggests one answer.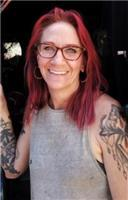 Sara Edminster
1979 – 2020
If you were lucky enough to truly know Sara, then you know that she was SaraBeth or SB. That she was the fiercest, smartest, and most organized person who had no problem accomplishing anything and everything. She effortlessly oozed more creativity in her pinky than most will ever witness. She could pick up a pen and out doodle anyone. She had a sense of style that was dark and edgy and that made you want to be her friend. She was witty and often a smart-ass and didn't mind making you uncomfortable. You were either on her path or in her way. She taught us all the good things and bad things that a big sister is supposed to do. Man she loved her babies fiercely and based every decision on her Sun & Moon. She will be missed terribly and leaves a giant hole in our hearts.
We would like to take a moment to acknowledge her doctor for the care he provided Sara. He was Sara's doctor for four important years of her life. She was referred to him and trusted him at a time when she was looking for answers for her health. In the first 12 months that the doctor oversaw her treatment, he prescribed her 4,070 30mg pills of Oxycodone, 2,450 8mg pills of Hydromorphone, along with a slew of muscle relaxants, antidepressants, sedatives, anxiety and anti-inflammatory pills. The doses prescribed at the 12th month of his care allowed Sara to take up to 10 8mg Hydromorphone pills alongside 12 30mg Oxycodone pills daily (again with other misc. pills).
The next three years of his care were similar. In our meeting with the Board of Medicine to question this care they stated that Sara should have read the fine print on the information leaflets included with her medications. Sara was not a person who was in a horrible accident or dying of cancer. When she was referred to the doctor, she was a thriving young mama of two kiddos, who owned two small businesses, but was also in pain and had joint problems. After four years of his care she could no longer function and lost everything and everyone she loved. If this is the medical care approved by the state and the best we've got, then it is not okay.
In lieu of flowers, please consider donating in Sara's name to the American Association for the Treatment of Opioid Dependence, Inc.
To Plant Memorial Trees in memory, please visit our Sympathy Store.
Published in Idaho Statesman on Dec. 31, 2020.